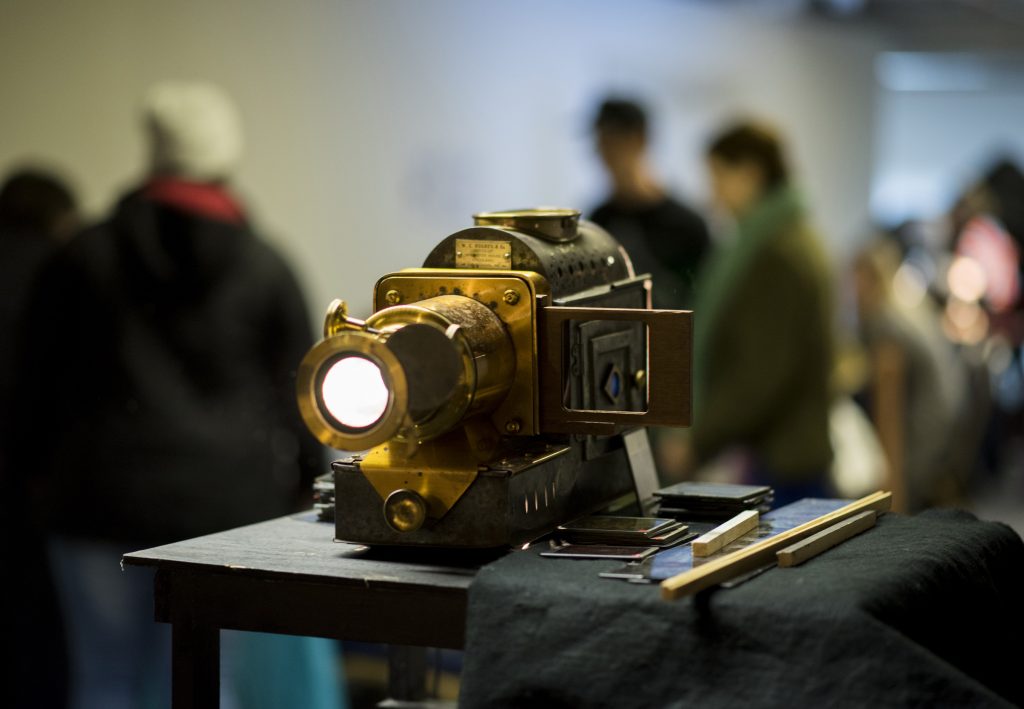 "This is the Magik Lanthorn that has made so much wonder in the world; and that which Friar Bacon used to show his magic wonders withal.

"This Lanthorn is called Magical with respect to the formidable apparitions that by virtue of light it threw upon the white wall of a darkened room. The body is generally made of tin, and the shape of a lamp, towards the back part a concave looking glass… which maybe put nearer or farther from the lamp in which is oil or spirit wine…

"By the lantern you may show Man or Woman or Bird or Beast and all sorts of fish that are in the sea"
This is the text from a 1727 advertisement for the shop of H. Dean on Tower Hill, London. Early Magic Lanterns were powered by the light of a flame and used a simple arrangement of lenses to project images during public shows.  In the days before photographic reproduction techniques, slides were hand drawn onto the glass.  Moving images were created using mechanism that moved these these glass plates. Other special effects were created by layered images and using multiple projectors. Lanterns were often used by travelling showmen to conjure up ghosts and apparitions during seances. Audiences who had not seen projection before may well have believed them to be magic. Monsters and ghost remained a favourite feature of lantern shows, though many other themes were introduced including travel, history, children's stories, religion, science and morality tales. The advent of Cinema lead to a decline in the popularity of Magic Lanterns. However, during the 20th Century collectors began to recognise the Magic Lantern's role in the early development of the moving image. Magic Lantern slide collections also offered a wealth of imagery and provide a fascinating insight into the popular culture of of generations past.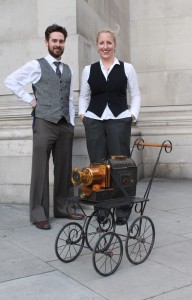 The Art of the Magic Lantern is a new collaborative project by Nicole Mollett and Frog Morris which re-purposes this pre-cinema projection equipment to create a new live performance pieces for contemporary audiences.
Original photographic glass slides  are mixed with new hand-painted slides. The slides are projected using refurbished lanterns and accompanied with narration. The stories  mix traditional magic lantern show themes, such as phantasmagoria, moralistic folk tales and travel, with contemporary issues and humour.
The project will bring together heritage research, drawing, socially engaged art practice, stand­up performance, and story telling.
The Art of The Magic Lantern has been touring South East England since March 2014. So far, thecompany has visited Whitechapel Gallery, Tunbridge Wells Museum, Whitstable Biennial, Faversham Creek Creative, Medway Fuse Festival, Minster Museum, Sheerness Promenade Festival, Romney Marsh and St. Margret Museum. More shows are to be announced soon.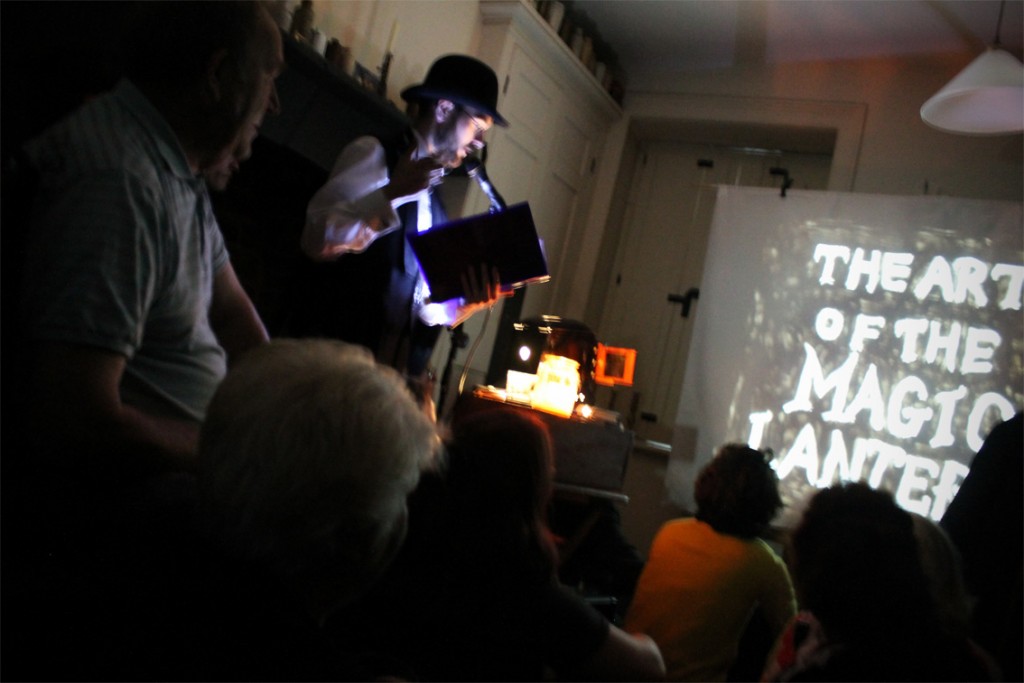 For each performance at a new location, new site specific slides are sourced with the help of local museums and collector.
Nicole makes work in sculpture and drawing and will be using her technical skills to paint the magic lantern slides as well as refurbish and operate the projectors. Frog brings to the project many years of experience as a performance artist working in a wide variety of venues, from pubs to arts festivals.
SUPPORTED BY ARTS COUNCIL ENGLAND AND KENT COUNTY COUNCIL
SPECIAL THANKS TO TUNBRIDGE WELL MUSEUM, FLEUR DE LIS MUSEUM FAVERSHAM AND THE MAGIC LANTERN SOCIETY.